17 Questions To Ask Yourself Before Moving + The Answers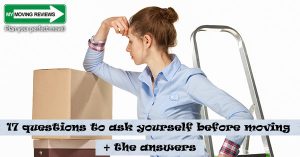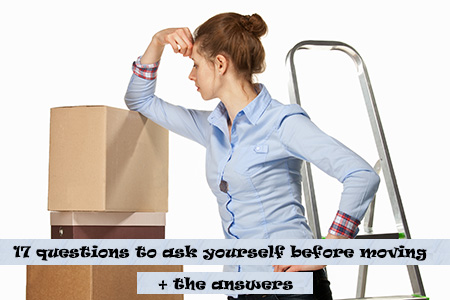 Due to its varied levels of puzzling complexities and stress-inducing situations, the process of moving from one home to another can be a rather confusing time. Not knowing what to expect from the months, weeks or days leading to Moving day is the major reason for the usual build-up of stress, anxiety and even fear in the event of a house move.
Whenever you are expected to go through one of life's most stressful events, there are a number of super important questions to ask yourself before you move out. Find the best answers to these essential questions and you will soon have a much clearer picture of the moving adventure ahead of you.
And by seeing and understanding all move-related matters more clearly in your mind, you will surely make the whole moving process considerably easier for you too – something you would not really mind, would you?
Here are the top 17 questions to ask yourself before moving out, plus their best answers under the set circumstances.
Ready? If yes, then read on.
Question #1: Is it the right time to move out?
People move house for a variety of good reasons: homes that have become too small or too big with the passage of time, better jobs in other states, loved ones waiting for them in other parts of the country, neighborhoods that have become too dangerous for raising a family, or simply attempted escapes from bad memories or troubling experiences.
The first big question is if the right time has come for you to pack up your things and move to another home. Timing is crucial for a successful and headache-free residential move, so sit down and have an honest conversation with yourself whether the best move is to really move out right now.
Food for thought: 7 signs it's time to move to a new city
Question #2: Have I saved up enough money to move out?
As you can imagine, this is one of the most fundamental questions to ask yourself before moving to another state or a new city. If you have enough money to cover the unavoidable moving costs, then that's good news. But if you don't, then the chances are that it's going to be a real struggle for you.
First and foremost, you need to set up a moving budget to see how things stand from a financial point of view. It's important to keep tabs on your move-related expenses at all times. And if your preliminary budget gives you some bad news, don't get discouraged as you can still manage to pull it off.
Must-read: How much money to save when moving house
Question #3: Can I organize and execute my move on my own?
Sure, you can pull off a DIY move but the better question is whether you should you do. A self-move can be rather risky for financial and safety concern unless it meets certain requirements that will (almost) guarantee a successful end to your DIY moving story.
The principal questions to ask yourself before moving by yourself:
Can I rely on good friends to give me a hand on Moving day?
Am I moving only a short distance?
Am I only moving non-specialty items that I can handle myself?
Do I have any previous experience in moving home?
If you answer YES to all these questions, then moving on your own seems like is a viable option after all.
See also: 7 serious self-moving mistakes that will cost you
Question #4: Is it better to trust a professional moving company?
As long as you manage to find a reputable moving company, then it's better to entrust your prized possessions to experienced movers, especially if you own valuable and specialty items, and you're moving long distance across the country. The key, of course, is to find a top-rated local or cross country moving company so that you can be sure they will provide a high-quality service.
If you don't have much time until it's time to move out, or if you can't seem to gather up reliable friends to help you out, then trusting the pros will be your best chance to have a trouble-free residential move.
Useful info: How to find a reputable moving company
Question #5: How much does it cost to hire movers?
Most of the times your decision to go with the pros will turn out to be the right one, but one of the things to think about before moving is the price of the professional moving services. How much do movers charge?
If you're moving only a short distance (local move), your moving company will charge you by the hour – expect to pay between $90 and $120 per hour for hiring two men and a moving truck.
If you're moving long distance (cross country move), then expect to pay roughly $1500-$2200 for moving out of a 1-bedroom home and $3500-$4200 for moving out of a 2-bedroom home (move distance of 1000 miles and no extra services included).
These prices are nothing but approximated moving costs, so use them only for reference.
Find out more: How much does it cost to hire movers?
Question #6: Should I request price estimates from various movers?
Absolutely! There's only one right answer to this vital question: YES, you should definitely request price quotes from different professional moving companies so that you can get the best deal for your money.
Ask a few reputable moving companies for in-house surveys – the only way you can receive precise estimates of the moving costs your moving is about to incur. It's not only about the price – the on-site visits will also give you more useful information about the professionalism of your movers, plus you'll be able to ask them face-to-face all the essential questions that seem to bother you in any way.
---
Request your free moving estimates now
---
Question #7: How do I compare moving companies?
One of the major things to consider when moving to a new city is that not all moving companies are the same in terms of pricing, services, attitude, professionalism, and reliability. Therefore, which professional mover you choose as your relocation partner is truly critical.
Therefore, which professional mover you choose as your relocation partner is truly critical.
Once you have the various price estimates in your hand, inspect them carefully and refrain from choosing the offer with the lowest price without comparing well all other aspects as well. Pricing is important, of course, but take a closer look at the offered extra services and their respective rates before selecting the winning bid.
Follow the link below to access the one-of-a-kind Moving Companies Comparison Chart.
Did you know: How to compare moving companies /Movers Comparison Chart/
Question #8: What additional moving services will I need?
Without a doubt, this is a very important question that will determine how much you pay the professional moving company to move your household items quickly and safely. It's best to discuss this matter with the company representative that comes to your home for the visual inspection.
Top-rated full-service movers offer a wide range of services to please their customers: packing and unpacking, disassembly and re-assembly of large furniture, temporary storage, shuttle services, etc.
Also, the best full service moving companies also tend to offer special moving services such as handling of specialty items, hoisting (rigging) of oversized items through windows and balconies, as well as custom crating for valuable and/or antique items.
Practical info: How to save on additional moving services
Question #9: Should I purchase additional insurance for my stuff?
One of the trickiest questions to ask yourself when moving house is whether you need to purchase additional moving insurance for your household items or not. Sometimes it's really hard to make that decision, especially if you're not really sure about your insurance options in the first place.
Most of the times, you will get Basic Limited Liability Protection upon signing the moving contract offered to you by a professional mover. However, keep in mind that that protection is as good as non-existent /around 60 cents per pound per item/, so it's only an option if you're not moving any expensive or valuable items.
In all other cases, consider purchasing a proper Full Value Protection either through your moving company or from a third party insurance company.
See also: Types of moving insurance and their rates
Question #10: What should I do until moving day?
What an excellent question!
It's imperative that you organize properly the time you have until the scheduled move-out day to reduce the stress that comes with approaching a deadline and to guarantee that you'll be ready before your movers arrive. Exactly what you do until the pros show up will depend on the precise parameters of your house move, of course.
Do yourself a favor and create a packing and moving timeline to keep things under control. The number of pre-move tasks to complete is usually mind-boggling, so a good moving checklist will do you a world of good.
Moving timeline: Your week-by-week moving checklist & Packing timeline: What to pack when for moving
Question #11: Should I hire professional packers to pack up my home?
Packing up a home for moving is the toughest and most time-consuming job you'll face prior to moving day, so it's only natural that you will be very interested in knowing how to finish it in the best possible way.
The things to consider when wondering who will pack up your house or apartment are:
Time. Do you have enough time to sacrifice for the task of packing up your stuff? Professional packers are known for their unrivaled packing speed.
Safety. Do you feel confident that you can pack your items safely enough to survive the move? Professional packers are well familiar with all safety measures, including whenever they need to handle high-value items.
Professional packing services sound great, but can you afford them?
Check this out: How much does it cost to hire packers?
Question #12: What packing materials do I need to pack on my own?
If you do happen to have enough time, have previous packing experience and do not possess any items that require special packing, then you might as well decide to pack your things by yourself, and thus save money in the process.
An important question to ask yourself before packing up your home on your own is whether or not you have the proper packing materials. You will often need to purchase sheets of bubble wrap and soft packing paper, including rolls of packing tape and color markers. But what about cardboard boxes – the King of all packing supplies?
If time is not pressing you too much, you should consider finding free moving boxes, and thus saving hard-earned money by doing so.
Cost-saving advice: Where to find free moving boxes
Question #13: How to pack quickly for a move?
Your informed decision to pack your belongings by yourself is supposed to save you money, but it will be time that you will be forced to sacrifice – an overwhelming amount of time, at that. This is why the question of how to pack quickly for a move will suddenly become more important than ever.
Naturally, your first thought will be to ask for timely help from friends and family members, while you second priority will be to trim down the number of items you plan to pack to their absolutely minimum.
And while both these packing tactics are perfectly correct, there are other clever ways to speed up your packing marathon – simply take advantage of them all.
Must read info: How to pack for a move in 3 days
Question #14: How can I guarantee my safety and that of my family?
It's important to remember that, as moving day approaches, some questions are more important than others. Generally speaking, you should be fine even if you don't really know how to
Generally speaking, you should be fine even if you don't really know how to keep your sense of humor alive during a move (after all, isn't a house move supposed to be a serious business?), but you just must ask yourself if you've done what it takes to guarantee the safety of the people around you.
Plan at least a few steps ahead, keep small kids and pets away from the relocation action, dress appropriately for moving day, keep hallways and pathways clean and free of obstacles, always use proper lifting techniques, and most importantly – never, not even for a second, forget to use your common sense to stay out of trouble.
See also: 8 safety tips to avoid injuries during a move
Question #15: What should I do when packers and movers arrive?
If you've done the sensible thing to hire a top-rated full-service moving company to take care of your residential move, then one of the questions to ask yourself before moving out is what you are supposed to do while the moving experts are in your home packing your stuff, disassembling furniture, lifting and loading heavy items, and so on.
The best thing about it all is that you're not expected to do much – you just need to show the moving team around and they will know what to do. It's a good idea if you stick around in case they have questions for you, but you shouldn't interfere in their work too much either. Instead, be a considerable host and offer them refreshing beverages (never alcohol) and energy-filling snacks.
Read also: Treat your movers the way you want to be treated
Question #16: How much should I tip movers?
After the professional movers have done their job, there always comes that kind of awkward moment when they expect to be tipped, especially when they know they have provided an outstanding service from start to finish. After all, moving companies are part of the service industry and tipping seems to have become a standard way for satisfied customers to show their gratitude and appreciation for a job well-done.
If you yourself are pretty happy with the way your hired workers handled their end of the bargain, then there isn't a single reason why you shouldn't reward their efforts by offering them appropriate tips. How much to tip movers? Percentages won't really work, especially if you're moving across the country. Follow the link below to learn the universal tipping formula + all you need to know about tipping professional movers.
Useful info: How much to tip movers
Question #17: How to reduce moving costs for real?
Of all the questions to ask when moving into a new house or apartment, this is probably the most important one. It's your hard-earned money that is on the line so you must use each and every opportunity to reduce the moving expenses, and thus save money on your upcoming move.
The best answer to that critical question comes in 3 separate parts:
Move only the household items you absolutely must take with you, get rid of the rest. Organize a garage sale or sell unwanted stuff online to help your budget (How to get rid of unwanted items before moving);
Find an affordable moving company that still offers high-quality services. Yes, it's a tough task but it's perfectly doable too. (How to find cheap movers near you);
If possible, pack your household items by yourself. This way, you will save a good amount of money, especially if you manage to get your hands on free cardboard boxes too. (How to pack a home in 60 steps).
Bonus question: Should I rate the moving company I just used?
Yes, you should always rate your moving company after the move is over. Why should you do it? Well, here you will learn the number of indisputable benefits of writing a customer review about your professional mover.
Source: My Moving Reviews